Becoming a Patient Advocate
Becoming an Advocate
     When you take on the role of caregiver, you not only become responsible for the daily care duties for your family member, but you also become their advocate. If your family member can speak up for him or herself, then you play a secondary role as their support. However, if that is not the case, and you are their mouthpiece as my husband refers to me, then your function takes on a greater meaning. In such cases, you likely serve as the Power of Attorney (POA) or Medical Decision Maker for your family member.
      If you do not have that legal authority, you need to obtain it to receive official recognition by healthcare authorities. No one will listen to you if you do not have that unless your family member is legally declared incompetent or has died. Chances are you do not want either to occur; therefore, a POA is the next best choice.
Power of Attorney Designation
     Once you establish yourself as the POA, and the family member defers all conversations to you, the medical community will begin to work with you as well. However, it's a good idea to keep a copy of your POA document with you to present whenever you are going to meet with a new healthcare person for the first time because healthcare personnel do not talk to one another. You almost always repeat your story multiple times down the line, which includes showing the same documents to each of them along the way.
Always Keep These Documents with You
Take a copy of your Power of Attorney, your family member's insurance cards, government-issued identification card (driver's license) and a list of all prescribed medications, over-the-counter medicine they take, diet supplements (vitamins, minerals, etc.), or herbal supplements (home remedies) you use with you every time you go to the hospital or doctor. If your family member has any implants or transplants, keep the essential information about those with you, too. I have a zipper pouch I use to store mine and update the contents after each medical appointment with any changes made to his medication list so that it stays current.
Caregiver Advocate for Patient Rights
As your family member's power of attorney, you have the legal right to speak up on their behalf if you feel their patient rights are being violated when receiving care in a hospital, as an outpatient, in hospice care, or in another managed care facility. The Joint Commission established standards for patient rights applying to all healthcare organizations. The Joint Commission oversees all organizations that accept federal funding; therefore, these standards are consistently found throughout the United States as a fundamental right for all customers of healthcare services.
Let's look at these Rights closer under "Rights to have Effective Communication" and "Rights to be Treated with Dignity."
Rights to have Effective Communication
To be informed about your care
To have your healthcare team listen to you regarding how you feel about your medical needs
To be allowed to make your own decisions regarding your treatment choices, including the right to refuse all or any part of any treatment you do not want to do
To have the information provided to you in the way that meets your needs ( such as if you are hearing impaired, they need to provide you with an interpreter, or if you cannot see to read, you need to have information provided orally)
To receive copies of test results and medical records (which includes the patient chart during the hospital stay or afterward)
Healthcare is a World Unto Itself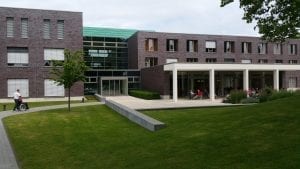 Patient Responsibilities
     When you enter a healthcare facility to receive care, the fact that you voluntarily came to them for help implies consent for treatment and establishes an agreement between you and them for services. Therefore, from the minute you come there with the intent of being a patient, you have specific responsibilities. If you do not intend to accept the help the healthcare team offers, if it's reasonable, then do not go there. If you have an issue with the assistance provided, then discuss your concerns with them in a respectful manner.
     Most healthcare professionals are genuinely in the profession to help people and to do the best they can every day in a difficult situation. If you talk through a position with them, most of the time, you can work something out. 
As a patient, you are responsible for the following:
Completing your admission and billing paperwork accurately.
Asking questions if you do not understand something and letting your doctor know if you do not want to follow a plan of care offered.
Giving your doctor and the hospital a copy of your advanced directive if you have one.
Following your plan of care, once you go home, including buying the supplies, medications, and other items, you need to take care of yourself.
Leaving your valuables at home, so they do not get lost at the hospital.
Being respectful to everyone, following the rules, and being safe.
Paying your bills as agreed.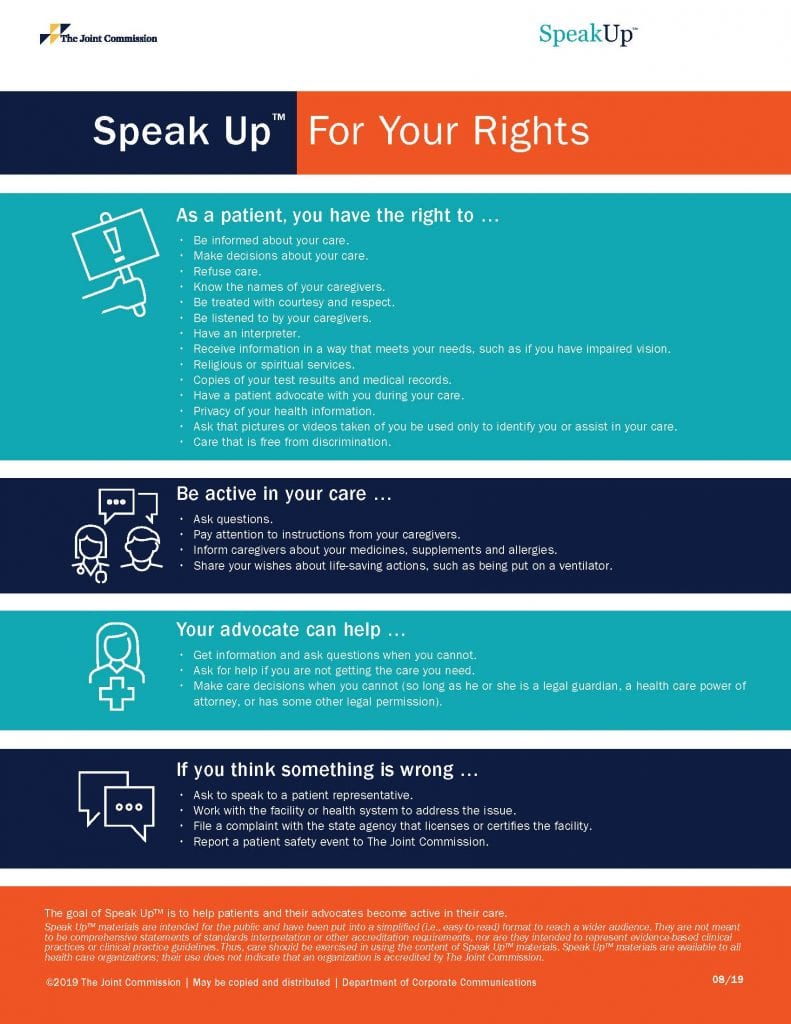 "I'm Great"
     When my Mom had cancer, she was somewhat uncomfortable most of the time; however, every time I took her to see her Oncologist and the doctor asked her how she was doing, my Mom responded with a cheery, "I'm doing great and how are you?" 
     Why would she do that? She was obviously in pain. The answer was because she LOVED her doctor. She could not stand to disappoint her doctor by saying she felt terrible. The doctor understood my Mom and would instead ask me for details about her condition. 
Clarify Misunderstandings    
 As the caregiver, sometimes, you must be the truth-teller. Patients sometimes need to live in denial for a while as they adjust to different stages of illness. Other times confusion or memory loss interferes with accurate storytelling requiring the caregiver to intervene. I often allow the one under my care to relay their story first, and then I supply details to clarify misinformation as needed. Occasionally the person under my care, and I disagree on the details, but usually, the doctor explores the differences in more depth to determine for himself where the difference lies.
Truth is Vital
     It is vital to give healthcare providers pertinent information related to changes that happened since the last visit. A change in behavior or primary body function can indicate something to a healthcare provider that a layperson would not consider. Intermittent events often serve as warning signs of something more serious about to happen. As a caregiver, our job is to give the doctor the details and let him decide what is pertinent. Therefore, tell them everything.
Rights to be Treated with Dignity
To be treated with courtesy and respect by everyone who represents the organization and to not suffer denial of services or be mistreated based on any discriminatory reason including but not limited to race, color, gender, age, disability, sexual preference, nationality, political affiliation, marital status, religion, or genetic information.
To practice your religious or spiritual beliefs and to discuss those beliefs with those willing to do so.
To know the names of the people who provide your care.
To have your healthcare information remain private and confidential unless you authorize its release. 
To limit the use of any pictures or videos taken of you to what you approve or to assist in your care
To have an advocate with them during their care
Becoming a Member of the Healthcare Team
Key Player in Healthcare Team 
   As the caregiver, you are one of the most important members of the healthcare team. Other than the patient, you may be the most important because you are the only one who knows the entire story. You know what is going on from all sides – at home, at the hospital, at every doctor's office, at every therapist's office, and with the insurance companies. You also have a past medical history and know first-hand (because you experienced it) what treatments worked since the last visit with the doctor. In fact, you might know better than the patient at times because the patient may have been confused during part of recovery, currently, or just not want to tell the doctor the truth.
MVP – Most Valuable Player
     You are a wealth of knowledge. You may not realize how much you know but you are invaluable to the healthcare team—often more so than they realize, as well, which is why I want you to learn how to talk-the-talk with them so they will listen to you. One of your greatest challenges will be to get some of the doctors to respect you and see your value to them. That's not true of all of them but many of them will talk over you.  Don't let them. When they make assumptions or say things that are not true about your situation at home, correct them. When they want to do something that will not work for your situation at home, speak up, and say so. Ask questions and involve yourself in helping to make the decisions about your family member's care.