Medicare and Social Security

How can I find help?
Ugh….How do I pay for this?
     One of my greatest frustrations as a caregiver is dealing with insurance. We pay our premiums faithfully, but why is it so difficult to receive the benefits for which we paid? All caregivers know that if there is a problem with an insurance claim, we need to prepare for hours on hold and at least two transfers to separate customer service representatives who require us to repeat our stories from the beginning.  When it comes to paying for medical care, most of us either use private insurance (often provided by an employer but it could be through the marketplace), a government agency (Medicare, Medicaid, or Military) or are self-pay. With private insurance, you shop around and purchase what you can afford, or you have what your employer provides. If you are self-pay, you pay your health care costs to the facilities on a payment plan negotiated with the billing office. For government agencies, the regulations have a broader scope. Medicare is the government's insurance for those with disabilities or over the age of 65.  Read on to find out more about this benefit.
Social Security Disability
My Experience
     I submitted my husband's application for disability once he could no longer use his hands to do drafting for a drafting company he had started when his company closed his department. His previous job was a supervisor of a fabrication shop and carpenter – manual labor and desk work both. He could not walk, lift, or use his arms or hands for intricate work, tolerate extremes in temperature, drive a car, or work a full day, due to primary progressive multiple sclerosis. They denied his application on the basis that he could perform other similar work.
     I looked up the "similar" work categories that applied to his previous job, broke down the duties required, and compared his limitations to those duties.  I included that documentation with his appeal and drafted a letter to his doctor with a request asking him specifically for a letter to Medicare, stating that he could not perform "similar" duties. I wrote a sample letter for his use to make it easier for him to assist me. His doctor complied, but, again, they denied his request.  I looked up the code for the denial and attached the rationale for the denial with evidence showing how they were wrong in their assumptions.  This time they granted us a hearing.
     The day of the hearing, the minute we "rolled" into the courtroom, I knew we had won. The judge watched me settle Lynn at the table for a while and started to write.  Before I sat down, he began asking questions about when he became unable to do this and that. The only unanswered question remaining for him was to determine an effective date to start benefits.
Who Qualifies for Medicare?
  Two ways exist to become eligible for Medicare
You qualify for Medicare if you are 65 years old or older and
You are a U.S. citizen or permanent legal resident who has lived in the U.S. for at least five years; and
You or your spouse paid into Social Security or railroad retirement benefits long enough to be eligible to receive benefits (about ten years); or
You or your spouse are a government employee or retiree who has paid Medicare payroll tax
You are younger than 65 and one of the following applies:
You have received social security disability benefits for at least 24 months (doesn't have to be consecutive), or
You receive a disability pension from the Railroad Retirement Board and meet certain conditions, or
You have Lou Gehrig's Disease (amyotrophic lateral sclerosis/ALS) which qualifies you immediately; or
You have permanent kidney failure requiring regular dialysis or a kidney transplant—and you or your spouse paid S.S. taxes and met the age/S.S. contribution requirements.
     If you were previously approved for disability benefits under Social Security, you may already be enrolled in Medicare when you reach age 65.  If that is not the case, then you need to enroll during the seven-month window surrounding your 65th birthday to avoid a late enrollment penalty. 
Enrolling     
      You enroll in Medicare when you turn 65. If you are getting close to age 65, you have three months before your birthday, the month of your birthday, and three months after it to enroll.  If you don't enroll during that time, you must pay a late fee when you do. Enrollment is once a year unless you have a significant life event that occurs, and then you have thirty days from that event to enroll.
     When enrolling, you have choices to make.  You should go to the Medicare website for additional information on Parts B and D to help you make those choices. I've included a summary of the choice options. Once you become approved for Medicare, you receive a book that explains your coverage.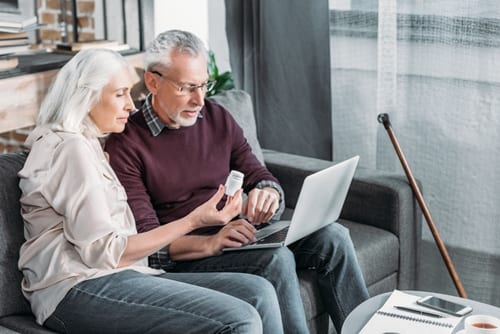 An Example of How Medicare Works for Long Term Conditions
     Medicare covers hospitalizations where the victim is making progress toward recovery.  Once progress stops occurring, custodial care applies, and Medicare coverage ceases. At that point, the patient becomes a self-pay patient unless they have other medical coverage.
Here's a summary of your potential cost under Medicare's Maximum Limits
| | |
| --- | --- |
| Category | Cost |
| Annual Deductible | $  1,408 |
| Days 1-60: $0 coinsurance | $         0 |
| Days 61-90: $352 coinsurance each day | $10,208 |
| Days 91 and Beyond (limited to 60): $704 coinsurance per day | $42,240 |
| Beyond day 151: full cost |   |
| Total (excluding beyond day 151) | $53,856 |
     Most people do not realize the potential gap Medicare leaves in coverage until they have a significant illness or accident. Unfortunately, it's a considerable coinsurance, and if you do not have gap coverage, you will undoubtedly feel the hit to your income. Therefore, when you sign up for Medicare, also look for a Medigap (Medicare Supplement) insurance too.
     If you get Medicare and Medicaid confused, you're not alone. A lot of people do. Medicare is a federal program funded by tax dollars and available to everyone age 65 and older who paid into Social Security and Medicare payroll tax.  Medicaid receives federal aid, but State funding Each State operates Medicaid programs based on their guidelines and regulations; therefore, qualifications vary per State. Most States establish requirements based on applicant income and State resources.
information on Medicaid is available here https://becomingafamilycaregiver.com/welcome-to-caregiving/medicaid-social-security-disability/