Social Security and Medicare
Retiring with Social Security and Medicare 
Social Security and Medicare are Part of a Government-Sponsored Retirement Plan
    Social Security and MedicareMedicare is a federally funded health insurance program for
• people aged 65 and over,
• persons eligible for social security disability payments, and
• people who need kidney transplants or dialysis.
It consists of two separate programs: hospital and outpatient medical insurance. More are part of a government-sponsored retirement plan for qualified working Americans. Throughout your working lifetime, some of the taxes withheld from your paychecks each pay period went to Social Security. That money went into the group collective social security account, where the money from all other American's joined with it. The collective fund is the source used to pay people who are retired or currently on disabilityA disability is a physical, mental, cognitive, or developmental condition that impairs, interferes with or limits a person's ability to engage in certain tasks or actions or participate in typical daily activities and interactions More. The money you contribute does not go into a personal account for you, like a bank account. Money from the central account redistributes to retirees and those on disability based on years worked and wages earned.
The Common Retirement Ages
     If you were born between 1943 and 1954, the full retirement age is 66.  If you were born between 1955 and 1960, full retirement gradually increases in age until it reaches age 67.  For anyone born after 1960, full retirement is age 67. 
     Early retirement begins at age 62. With early retirement, you receive reduced benefits and cannot receive Medicare until you reach age 65.
     You may choose to delay collecting your retirement benefits until age 70. Benefits continue to increase until that time.  If you delay retiring beyond age 70, your benefits do not continue to grow but remain at the same level you would have received at age 70.
My Social Security
     Social Security's website, "my Social Security," allows you to keep track of your retirement benefits. You can establish an account and determine when you become eligible for benefits, your benefit amount, your Medicare eligibility, availability of other benefits, and other information about your status. You can go to "Get Your Social Security Statement" to get details of your earnings or visit the "Social Security Calculators page" to determine how much your benefit amount might be each month.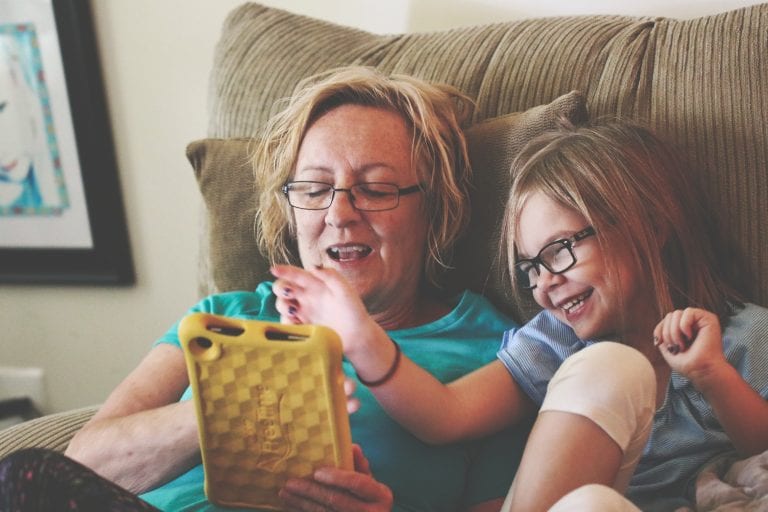 Earning Credit Toward Social Security and Medicare Benefits
Social Security 40% of Pre-Retirement Income
     When you reach retirement age, you complete the retirement application and start the approval process. If you are approved, most people receive approximately 40% of their pre-retirement income from Social Security and Medicare benefits (provided they are 65 years old or disabled). Social Security replaces a percentage of your pre-retirement income based on your lifetime earnings. The portion of your income replaced is based on your highest 35 years of earnings and varies depending on how much you earn and when you choose to start benefits.
Retirement Credits
     Individuals earn "credits" toward Social Security and Medicare benefits as they work and pay into Social Security. Your birth year determines the number of credits you need before you are eligible to retire and receive benefits. If you were born in 1929 or later, you need 40 credits (approximately ten years of work).  If you stop work before you reach the required number of credits, the credits remain intact until you return to the workforce later to add more.  Once retirement credits reach 40, benefits activate.  
Social Security Facts
Who Qualifies for Social Security Benefits?
To qualify, you must meet the earnings test based on your age and how many months you contributed earnings to social security over the years. Go to the Social Security website  https://www.ssa.gov/planners/disability/qualify.html    to find out when you can apply. It will be somewhere between two years and ten.  
If you qualify under earning, apply online with social security: www.socialsecurity.gov  It takes three-five months for them to process the application. Warning! Your application won't get processed unless you send them EVERYTHING requested on the form. https://www.ssa.gov/pubs/EN-05-10029.pdf Get a copy of this form and complete everything it tells you that you need to do. Otherwise, you get an automatic denial letter. 
Are You Disabled "Enough" to Qualify?
You hear a lot of comments about how easy it is to get on disability, but I didn't find that to be the case. You must answer the following questions to their satisfaction, or they will deny your request for approval.
Are you working? Request denied if your earnings equal a certain threshold or even if you do not work, and you have income from another source that meets that threshold.
Is your medical condition "severe"? Severe means that it significantly limits your ability to do necessary work activities such as lifting, standing, walking, sitting, and remembering for at least 12 months. Request denied if your disability is less than 12 months duration or you can perform your job with an accommodation. Therefore, if you are still working in any capacity you will not be eligible for Social Security Disability
Does your medical condition meet or medically equal a listing? They have a listing of impairments they consider severe enough to warrant disability. If your condition does not appear on the list, you do not qualify.  Here's the list. https://www.ssa.gov/disability/professionals/bluebook/AdultListings.htm
Can you do the work you did before? If you can still do the same job, with accommodation at a different location or the same location, but at reduced hours, you don't have a qualifying disability.
Can you do any type of work? They look at what jobs might be like what you do now and consider whether you could do them with your limitations. If they think you can, then you are disqualified from receiving disability. 
You're Approved! Medicare, Too!
Social Security notifies you of the good news; they approved you for benefits. The letter explains you are to receive a monthly benefit based on lifetime average earnings of (amount) effective (date).  You read further and discover your first check should arrive in six months from the Social Security Approval effective date. That's right; it takes six full months to cut that first check. If your approval occurred on June 15, begin counting six-months on July 1, not June 15. Your first check, therefore, comes on January 1.
Medicare Approval is Automatic with Social Security Benefits
If you receive Social Security Disability and you're under the age of 65, you receive automatic approval for Medicare. However, you must wait two years before coverage begins.  You do not need to enroll at the end of the two-year waiting period. Social Security automatically sends you the card; however, you want to opt-out of Part B or D due to having other coverage to avoid paying premiums.
To determine if your earnings are eligible for Social Security Disability Benefits https://www.ssa.gov/planners/disability/qualify.html
To apply for Social Security Disability online: www.socialsecurity.gov  
Social Security Disability
My Experience
     I submitted my husband's application for disability once he could no longer use his hands. His previous job was as a supervisor of a fabrication shop and carpenter. He could not walk, lift, or use his arms or hands for intricate work, tolerate extremes in temperature, drive a car, or work a full day due to primary progressive multiple sclerosis.
Started Company
     After losing his job through a layoff, he started his own drafting company.  However, as his condition progressed, it became difficult for him to control the mouse or hit the correct keys. It was my opinion at that point that he was unable to perform his job or any similar job for which his training and experience might qualify him. Therefore, he should meet the definition of disabled under Medicare regulations.  
Application Denied
     However, Medicare denied his application on the basis that he could perform other similar work.
The Challenge Begins   
      I set out to prove them wrong. After looking up his job group, I wrote down the job duties associated with his work category. By looking at the work duties, I addressed all the "similar functions concerning his limitations.  I planned to use that information with his appeal.
Drafted Sample Letter for Doctor
     To help his doctor know specifically what information Medicare needed for the appeal, I drafted a sample letter to follow if he wished.  The letter addressed his limitationRestraint; confined within limits: restricted; something that bounds, restrains, or confines. More as related to the job performance requirements. His doctor appreciated my efforts to make his work easier and used most of what I provided.  He mailed in the document with all the appeal data complied.
Denied Again
     To our dismay, once again, Lynn's appeal was denied. We were given a few days to appeal the denial, which I promptly did.  I looked up the code for the denial and attached the rationale for the denial with evidence showing how they were wrong in their assumptions.  This time they granted us a hearing.
The Hearing     
     The day of the hearing, the minute we "rolled" into the courtroom, I knew the judge would rule in our favor. The judge watched me settle Lynn at our table and started to write.  Before I sat down, he began asking questions about how long he had been in the wheelchair and when he stopped being able to drive. It became apparent that the only question left in his mind centered around determining an effective date related to when he became disabled.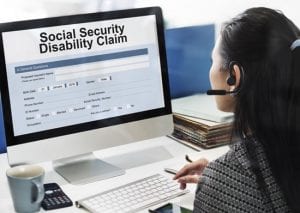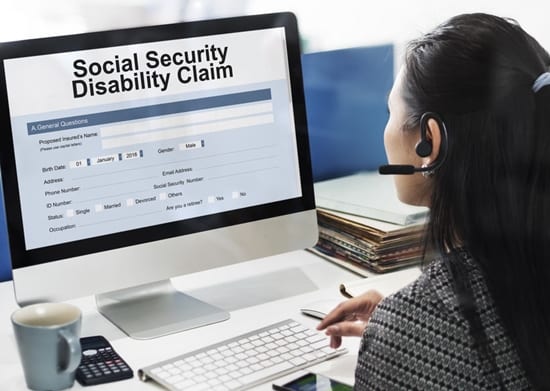 Medicaid Vs. Medicare
     If you get Medicare and MedicaidMedicaid is a federally aided state-operated program that provides medical benefits for low incomes people who meet specified eligibility criteria. Individual states determine the benefits covered, program eligibility, rates of payment for providers, and methods of administering the program. More confused, you're not alone. A lot of people do.
     Medicare is a federal program funded by tax dollars that provides health coverage if you are 65+ or under 65 and disabled or a dialysis patient, no matter your income provided you paid into Social Security as an employee paying Medicare payroll tax.  Patients pay part of costs through deductibles for hospital and other costs. Small monthly premiums are required for non-hospital coverage. http://www.medicare.gov/
     On the other hand, Medicaid receives federal aid but is a State-controlled program that provides health insurance to low-income individuals of any age.  Each State operates Medicaid programs based on its guidelines and regulations; therefore, qualifications vary per State. Most States establish requirements based on applicant income and State resources. https://www.healthcare.gov/medicaid-chip/eligibility/    http://www.medicaid.gov/
Medicare Facts
  Two ways exist to become eligible for Medicare
1.      You qualify for Medicare if you are 65 years old or older and
You are a U.S….. citizen or permanent legal resident who has lived in the U.S….. for at least five years; and
You or your spouse paid into Social Security or railroad retirement benefits long enough to be eligible to receive benefits (about ten years); or
You or your spouse are a government employee or retiree who has paid Medicare payroll tax
2.     You are younger than 65 and one of the following applies:
You have received social security disability benefits for at least 24 months (doesn't have to be consecutive), or
You receive a disability pension from the Railroad Retirement Board and meet certain conditions, or
You have Lou Gehrig's Disease (amyotrophic lateral sclerosis/ALS) which qualifies you immediately; or
You have permanent kidney failure requiring regular dialysis or a kidney transplant—and you or your spouse paid S.S… taxes and met the age/S.S. contribution requirements.
Enroll at Age 65
      You enroll in Medicare when you turn 65. If you are getting close to age 65, you have three months before your birthday, the month of your birthday, and three months after it to enroll.  If you don't enroll during that time, you must pay a late fee when you do.
Enrollment is Once/Yr Except for Special Life Events     
     Enrollment is once a year unless you have a significant life event that occurs, and then you have thirty days from that event to enroll.
Choose Your Plan   
     When enrolling, you have choices to make.  You should go to the Medicare website for additional information on Parts B and D to help you make those choices. I've included a summary of the choice options. Once you become approved for Medicare, you receive a book that explains your coverage. 
Part A covers hospitalization and is premium-free if you worked enough years to qualify for social security benefits. If you didn't, you might still be able to buy Part A coverage. Hospitalization covers the following:
Inpatient care in a hospital
Inpatient care in a skilled nursing facility (not custodial or long-term care)
Hospice care
Home health care
Inpatient care in a religious nonmedical health care institution
Part B provides medical insurance (i.e., doctor's appointments). Participants pay a monthly premium and a copay with use at doctor's appointments when they participate in part B.
If you don't sign-up for Part B during the open enrollment period when you become eligible, there is a late penalty you must pay. Some exceptions apply, such as being covered by a spouse's employer's insurance. Part B covers medically necessary doctor's services, outpatient care, home health services, durable medical equipment, and other medical services, including many preventive services.
Part C – Alternative to Medicare Coverage (Medicare Advantage)
Part C is an alternative to Medicare cover. Medicare-approved private insurance companies offer Medicare Advantage Plans that must follow the rules set by Medicare. Medicare Advantage Plans may offer extra coverage, like vision, hearing, dental, and other health, and wellness programs. Most plans include Medicare prescription drug coverage (Part D).
Part D – Prescription Drug Plan
Part D – Medicare offers Prescription Drug Coverage to everyone with coverage through Medicare-approved private companies. There is a monthly premium for prescription drug coverage that is an additional cost to the premium associated with Part B and Part C if required.
Medicare Does Not Cover The Following
Medicare Does Not Cover the Following
Long-term care (also called custodial care, nursing home placement)
Most dental care
Eye exams related to prescribing glasses
Dentures
Cosmetic surgery  
Acupuncture  
Hearing aids and exams for fitting them
Routine foot care
An Example of How Medicare Works for Long Term Conditions
     Medicare covers hospitalizations as long as the victim is making progress toward recovery.  Once progress stops occurring, custodial care applies, and Medicare coverage ceases. At that point, the patient becomes a self-pay patient unless they have other medical coverage.
Here's a summary of your potential cost under Medicare's Maximum Limits
| | |
| --- | --- |
| Category | Cost |
| Annual DeductibleThe amount an insured person must pay before the insurance company begins payment for covered services. More | $  1,408 |
| Days 1-60: $0 coinsurance | $         0 |
| Days 61-90: $352 coinsurance each day | $10,208 |
| Days 91 and Beyond (limited to 60): $704 coinsurance per day | $42,240 |
| Beyond day 151: full cost |   |
| Total (excluding beyond day 151) | $53,856 |
     Most people do not realize the potential gap Medicare leaves in coverage until they have a significant illness or accident. Unfortunately, it's a considerable coinsurance, and if you do not have gap coverage, you will undoubtedly feel the hit to your income. Therefore, when you sign up for Medicare, look for a Medigap (Medicare Supplement) insurance.