Preparing for Emergencies
Virginia Emergency Management Services
   Many caregivers are not aware that Virginia Emergency Management (VEM) has an entire web page devoted to helping individuals with disabilities and their caregivers prepare for emergencies. It's incredible how many resources are available if you only know about them. It's difficult for non-disabled individuals to cope in an emergency, but it's particularly tricky for those with special needs. Therefore, you must begin preparing for emergencies before they happen if you hope to make it through the crisis unscathed. The VEM webpage has a lot of great information. I encourage you to seek it out. In the meantime, here are some of the highlights.
Obtain a National Oceanic and Atmospheric Administration Radio (NOAA) to use during storms. 
Learn where you would evacuate should the need arise and determine how you would accomplish an evacuation. (available on the FEMA Mobile app)
Get the FEMA Mobile App
Rescue Alarm Systems
   Part of the role of caregiving is preparing for emergencies while hoping that you never experience one. Many wonder if they would respond bravely or if they would freeze. Almost everyone fears being the decision-making in an emergency and having everyone look to them for direction. That's especially true when they don't have a clue what to do! That's one reason why having a plan is so important.  If the time comes that everyone is looking to you to find out what to do, you want to have something to say.
     Emergency Preparedness
     What is Emergency Preparedness?  Just what it says. It's preparing in advance for emergencies. What does that mean for you?  I'll outline them first and then go over each.
You need an emergency alert system you can call for help and who calls you back if needed.
What types of emergency conditions are likely to occur in this situation?
Consider taking a First Responder Class.
Identify the best immediate responses to those situations.
Store this information where you can reach it and share a copy with the paramedic if they request it.
Keep a current copy of all medications and up-to-date medical history, insurance information, and personal information together on one form.
Caregivers should have a checklist of essentials they want to take for themselves to pack a "go bag" in a hurry.
     If you don't have one already, I strongly recommend you subscribe to an emergency alert system. Emergency alert or alarm systems are dispatch systems you call by pressing a device you wear.  The device alerts dispatch that you need attention. Dispatch calls you to see what you need. Suppose you pressed the device by mistake? "No problem. Have a nice day. Goodbye," is how they would respond.
     However, if you need help, they immediately take a history, tell you what to do for safety, call for emergency assistance, call whomever you might want to notify other than who might be with you at the time, and stay with you on the phone until help arrives. The dispatcher coordinates all activity until the rescue squad takes over and call back later to make sure the patient receives the care needed and the family is okay.  They are wonderful.
     Lynn and I both wear emergency buttons around our necks that we press for help if something happens to one of us.  We have used them many times, and I strongly recommend you get one.  There are many types.  I recommend finding one that meets your needs and orders it today—seriously.
Service Options
     In making your decision, consider the following in making a choice.
How far do you need the signal distance to reach from the home base? (Satellite vs. home base)
Do you have a landline or a wireless telephone system?
If a risk of falling is a concern, you might want to consider ordering a device that can detect that one occurred and automatically call for help.
If your family member wanders outside the home, a device with GPS tracking may be helpful.
Prepare in Advance with "Go" Bags
Go Bags
   While it's not right for all caregiver situations, if you are a caregiver for someone who has a long-term chronic health condition, trips to the emergency department are not uncommon. Chronic illnesses always have a balance that must be maintained, and if that balance tilts, then a trip to the ED is often the result. Unfortunately, I've made the trip several times and expect there to be many more ahead. After the first few, I put together a "Go" bag and a "Medical Information" Sheet that I keep prepared for when I must leave in a hurry.
Lynn's "Go" Bag
     The "Go" Bag is a suitcase I keep partially packed with toiletry items I need for staying at the hospital for a few days and two days of supplies for Lynn. 
Lynn's supplies consist of
what he needs for mouth care (denture cup, toothbrush, paste, floss)
his toileting essentials (suppositories, pediatric enema, gloves, lubricant,
foam wedges we use for comfort,
two boxes of 12 Fr. Intermittent male catheters (the nursing unit usually needs to order them upon admission),
medications the hospital doesn't often carry in the formulary,
his pillow
Contractor boots
Charger for his wheelchair
His phone and charger
and a few other comfort items he likes to have available.
Donna's "Go" Bag:
Toiletries, shower supplies, clothing, medications, bedtime needs, pillow, slippers, and other personal care items.
Communication equipment and chargers (phone, iPad, computer)
Electric cooler for food storage and a fold-up wagon to transport supplies.
Cash for meals
Snacks, water
Pre-printed medical history
Lynn's medical history, power of attorney (if new medical facility), insurance cards
Carry Medical History With You
Paperwork 
      I created a pre-printed Medical Pre-Registration form that I carry with me to all medical appointments and admissions.  Hospitals and clinics are required to reconcile a patient's medications with you on each visit.  Having this document saves a lot of time.  I hand it to the nurse, review it, give it back, and don't have to discuss medications.  Doing it that way works so much better for me.  Without this sheet, the nurses ask me about the drugs Lynn is taking by referring to them using the generic name. I know his medicine by the brand name; therefore, I have difficulty recognizing which medicine she is checking. 
     The Medical Pre-Registration form I use lists all his medications, allergies, the pharmacy we use, the over-the-counter medications he takes, his insurance information, and his significant diagnosis.   This information is all the primary information needed in a crisis.  EMS and Healthcare offices love it.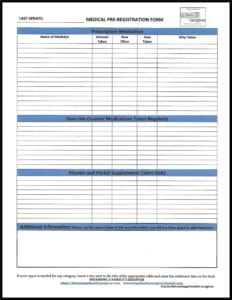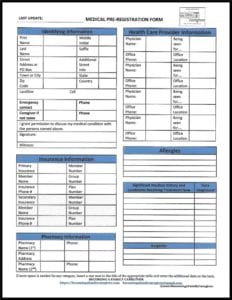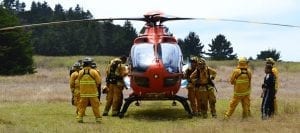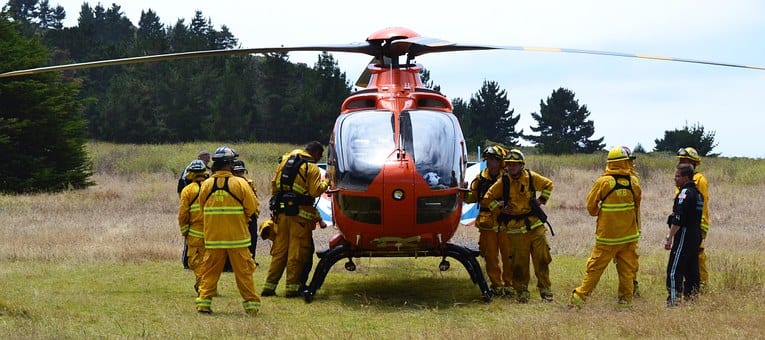 FEMA Guides Help Families Prepare
Get the FEMA Mobile App
Receive real-time alerts from the National Weather Service for up to five locations nationwide.

Share real-time notifications with loved ones via text, email, and social media.
Learn emergency safety tips for over 20 types of disasters, including fires, flooding, hurricanes, snowstorms, tornadoes, volcanoes, and more.
Locate open emergency shelters and disaster recovery centers in your area where you can talk to a FEMA representative.
Prepare for disasters with a customizable emergency kit checklist, emergency family plan, and reminders.
Recommended essential items in the kit include:
Water (one gallon per person per day for at least three days, drinking and sanitation)
Food (at least a three-day supply of non-perishable food)
Battery-powered or hand-crank radio and an NOAA Weather Radio with tone alert
Flashlight
First aid kit
Extra batteries
Whistle (to signal for help)
Dust mask (to help filter contaminated air)
Plastic sheeting and duct tape (to shelter in place)
Moist towelettes, garbage bags and plastic ties (for personal sanitation)
Wrench or pliers (to turn off utilities)
Manual can opener (for food)
Local maps
Cell phone with chargers and a backup battery
Recommended additions
Cloth face coverings (for everyone ages two and above), soap, hand sanitizer, disinfecting wipes to disinfect surfaces
Prescription medications
Non-prescription medications such as pain relievers, anti-diarrhea medication, antacids or laxatives
Prescription eyeglasses and contact lens solution
Infant formula, bottles, diapers, wipes, and diaper rash cream
Pet food and extra water for your pet
Cash or traveler's checks
Relevant family documents such as copies of insurance policies, identification, and bank account records saved electronically or in a waterproof, portable container
Sleeping bag or warm blanket for each person
Complete change of clothing appropriate for your climate and sturdy shoes
Fire extinguisher
Matches in a waterproof container
Feminine supplies and personal hygiene items
Mess kits, paper cups, plates, paper towels, and plastic utensils
Paper and pencil
Books, games, puzzles or other activities for children
In addition, the American Red Cross Recommends adding the following: 
Multi-purpose tool
Family and emergency contact information
Extra set of car keys
Manual can opener
Whistle
work gloves
scissors
Towels
Household liquid bleach
Register with your local Special Needs Registry. Keep your Emergency plan and contact list in an airtight container with your emergency kit.
Explain to first responders that you need to evacuate with your family to a shelter. Notify them in advance of any special devices, service animals, assistive technology devices or supplies, that you might need to take with you to be aware in advance.
Determine the type of transportation assistance needed for an evacuation (such as a para-transport). Will you need to relocate to a specific facility due to special treatment requirements?
Identify a support network and provide them with a copy of your contact information and an emergency preparedness plan. Provide at least one member of your contacts with a house key.
Contact your local county Emergency Management Agency and discuss your needs if they keep a list of people with disabilities in planning for evacuations.
Suppose you require a life-sustaining treatment such as dialysis at a facility that could be closed during a disaster, discuss with your healthcare provider what to do if you cannot get treatment. Is there an alternate location or an alternative treatment option?
If you use medical equipment at home that must run on electricity, talk to your healthcare provider about options that might be available to use when the power is out. Perhaps you have a friend with a generator or could purchase one yourself? On the other hand, maybe your doctor could suggest a different option to hold you over until it came back.
Wear medical alert tags or bracelets.
If you have a communication impairment, have information that explains the best method to communicate with you. If you use a device to help with communication, plan how you will evacuate with it. Keep a record of your model numbers, equipment name, brand ID, insurance information, etc.
Plan how to communicate if the equipment is not working, such as using a laminated card, pictures, writing out what you need, using Braille/text communication cards.
Mobility Impairment Issues
If you use a powerchair, consider bringing a manual one, in case you can't recharge the power one. Know how much your chair weighs and how wide/tall it is, too, if you need to transport it.
Make sure at least one other person knows how to operate your chair.
Have an extra battery on hand to power your chair or assistive device for putting air in the cushion or tires. Have a patch repair kit on hand, too, or a spare seat cushion as a backup.
Preparing for Disaster for People with Disabilities and other Special Needs
Preparing for Disaster
for People with
Disabilities and other
Special Needs
https://www.fema.gov/pdf/library/pfd_all.pdf
Preparing Makes Sense for People with Disabilities (large print)
Preparing Makes Sense for People with Disabilities  (large print)
https://www.ready.gov/disability
Tips for Those with Behavior Issues
If you go to a shelter, it will be noisy, crowded, dirty, and confusing – all of which are difficult for someone with a behavior disorder.  Try some of these options for distractions.
Handheld electronic devices (bring chargers)
Sheets and twine or small pop up tents for isolation
Headphones
Comfort snacks
Toys
Body socks for sensory reduction
Fidgets spinners, earplugs
Additional Items
At least a week's supply of medications (bring a written list of what you take, dosage, frequency, etc., in case you need assistance with obtaining or making anything)
Extra eyeglasses or contacts
Additional hearing aids and batteries
Oxygen
Equipment serial numbers, model numbers, battery details – whatever you might need for replacements.
Medical Alert System or monitoring system
Supplies for service animals, if applicable.