Becoming A Family Caregiver
Bridging the Gap between Healthcare and homecare.
"Becoming A Family Caregiver" – Designed to meet the needs of new and seasoned caregivers by someone who knows those needs first hand.
Virginia Caregiver Data
According to a 2016 survey by AARP, over 1 million adults provided unpaid caregiver services to familyThe basic unit in society traditionally consisted of two parents and their children but the family has now been expanded to include any of various social units differing from but regarded as equivalent to the traditional family. More members in Virginia each year. 
Forty-three percent of Virginia voters aged 40-plus have experienced providing care to a family member now or in the past.
Fifty percent of these caregivers perform medical or nursing tasks and assist with activities of daily living.
     Most family caregivers receive no help in preparing to become a caregiver.  At best, they are told how to perform medical procedures using hospital techniques that might not work well at home.
     Furthermore, training rarely includes associated topics that come with caregiving – adapting the living space, buying supplies, infection control, safety concerns, the illnesses' effect on the family unit, financial concerns, finding help, etc. Instead, the caregiver learns by asking friends, trial and error, personal research, or other means.
     The mission of Becoming a Family CaregiverA person who provides needed help to someone of any age who is ill or injured and unable to care for themselves.  They may provide emotional support, physical assistance, financial assistance, or other types of help. More is to provide caregivers with the resources they need at a cost they can afford – free. See what's available below!
Check out 
resources available on
ALL FOR FREE!!
→  →  →  →  →    
Click here to
Connect with Becoming a Family Caregiver
Resources Available as Part of Becoming a Family Caregiver
Request a Free Copy
of a
"Medical Pre-Registration Form"
Keep all essential
• Of, relating to, or constituting the essence
• inherent, of the utmost importance
• basic, indispensable, necessary,
• being a substance not made by the body in an amount great enough for normal health and growth and requires us to eat it instead.
More information on one form and let the person registering you have a copy to complete the registration process. The Medical Pre-Registration Form (see sample) was created for that purpose. It
Helps healthcareefforts made to maintain or restore physical, mental, or emotional well-being especially by trained and licensed professionals More professionals
Eases frustration and tension
Limits time answering questions
Prevents temporary forgetfulness
Stores essential information in one place
If you would like a copy, send a request to Info@becomingafamilycaregiver.com.
Front Page of medical Pre-Registration Form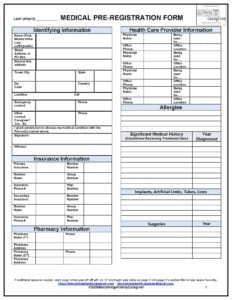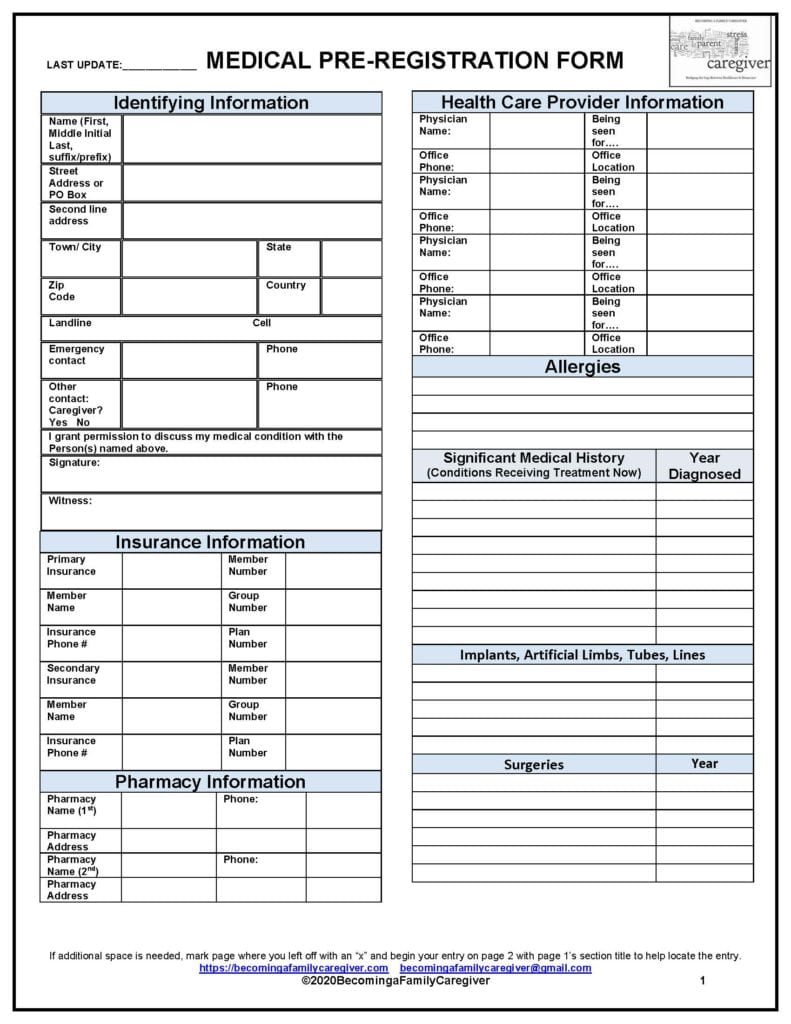 Becoming a Family Caregiver Is Under Construction
Although the website might be under construction, please feel free to look around and take advantage of any of the resources you find useful. I encourage you to subscribe as a follower because I'm adding new content all the time.
I don't know the official launch date yet for the website. Unfortunately, my caregiving duties often create a challenge in competing with the time needed to work on the website; however, I work on it every week. In the meantime, feel free to contact me with questions and suggestions.